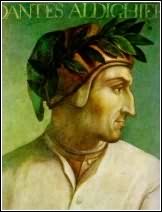 Dante Alighieri (1265-1321), Italian poet, prose writer, literary theorist, moral philosopher, and political thinker and one of the great figures of world literature, who was admired for the depth of his spiritual vision and for the range of his intellectual accomplishment.
Dante was born in Florence between late May and early June 1265, into a family of the lower nobility. His mother died in his childhood, his father when Dante was 18 years old. The most significant event of his youth, according to his own account, was his meeting in 1274 with Beatrice, the woman whom he loved, and whom he exalted as the symbol of divine grace, first in La vita nuova (The New Life) and later in his greatest work La divina commedia (The Divine Comedy). Scholars have identified Beatrice with the Florentine noblewoman Beatrice Portinari, who died in 1290 aged barely 20. Dante caught sight of her on three occasions, but never...
Continue reading Di Dante Alighieri Biography.
Di Dante Alighieri Books